Arsenal could well miss out on the signing of Fiorentina star Dusan Vlahovic next summer if they fail to solve two problems that have been plaguing them in the past.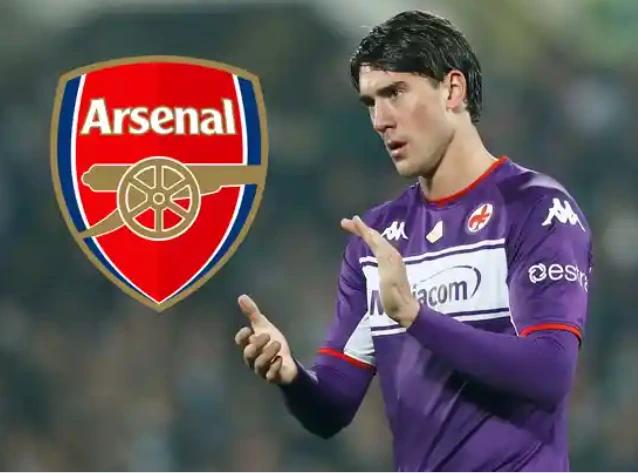 The Gunners are very keen on signing Vlahovic from Fiorentina. The speculation about a potential move for the 21-year-old have been dominating transfer headlines for a long period of time now.
Reports have it that the Gunners had made an offer of player-plus-cash to Fiorentina for the young Serbian forward, but no progress has been made yet as regards to the potential transfer and now things looks to be dying off with time.
However, the Emirates Stadium side are still very hopeful that a deal for Dusan Vlahovic is not out of reach, maybe it is this winter, but definitely not in the summer.
With the Gunners keener to sign him, they must overcome two of their biggest issues to in order to be able to stand a chance of signing the hot Serie A striker.
The Issues Arsenal Must Resolve.
1) Top 4 Finish: Its been a long time since Arsenal finished in the Premier League top 4 and that could hinder them from signing Vlahovic next summer.
Multiple reports has it that the Arsenal target has revealed to some close sources that he would only leave Fiorentina for a club that would offer him Champions League football and the Gunners are currently not in the position to do that.
Remember that the Gunners were beaten to the signature of Manuel Locatelli by Juventus because of the same Champions League deficiency. The Italy international decided to sign for the Old Ladies of Turin because of their presence in the UEFA Champions League.
A potential deal for Vlahovic might suffer the same fate or end unless the Gunners finish in the top four this season and secure Champions League football next season.
Arteta's side have been out of the competition since 2017. Currently they are 5th placed in the Premier League standing and should they play their parts well and ride their luck, they could end that run.
2) Lucrative wage: Arsenal hardly offer new acquisitions lucrative contracts and that could well be their undoing in their bid to sign Dusan Vlahovic from Fiorentina.
Money gets class, the Gunners have a record of missing out on top talents and world class players because of their reluctance in making mouth-watering contract offers.
With Vlahovic wanted by almost every big club in Europe, offering him a better and improved contract could help Arsenal edge others out of the deal, but it still remains to be known if the Gunners would do it.